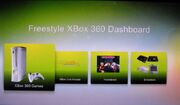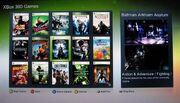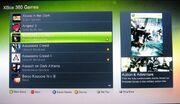 The Freestyle Dashboard is an homebrew dashboard for Xbox 360 consoles with exploit. It's main focus is on launching rather than copying / ripping / file exploring. It's themed like the NXE (actually, it uses the same images).
Features
FTP Support.
List XBOX 360, XBOX Live, Application and Emulators, and launch them.
Support for artwork for each title, including boxart, screenshots and icon.
Use pc to download artwork to xbox either via usb drive or ftp.
Browse games by genre.
Favourite games support.
Game details including no of players, resolution, sound and online options,
Fullscreen screenshot viewer.
Fully skinable.

Channels
XBox360 Games
XBox Live Arcade
Homebrew
Emulators
The paths for all four channels can be set in the config.xml located in the base directory of the dash. This allows you to build your own folder structure.
You can set different paths to XBLA content, but only the root folder can be different.(i.e. usb0:\\Games\XBLA)